Notification of Transfer
A student-athlete who wants to contact other schools regarding transferring must submit a notification of intent to transfer to the Compliance Office. To be able to use the one-time transfer exception for immediate eligibility, student-athletes must complete the ARMS request to enter the transfer portal within the sport-specific transfer portal windows. (Note, tentative transfer portal windows for fall sports are listed below. All other sports will be updated on this website once they are confirmed.)
The notification of transfer form is located in a student-athlete's ARMS Launch Workflow portal. Here is the step-by-step process:
Log into ARMS - https://sso.armssoftware.com/arms using your ASURITE and password.
On the left toolbar, click on Workflows.
Then click on Workflow Launchpad.
Click on the Notification of Transfer workflow link. 
Complete the form all the way through. (Note that student-athletes are required to complete the NCAA educational transfer module before entering the transfer portal. Thus, student-athletes wishing to transfer must complete the educational module and attach the certificate of completion to the Notification of Transfer workflow.)
Once received, the Compliance Office has two business days to add the student-athlete's information into a national transfer database accessible by other college coaches.
Until this process is complete it is impermissible for ASU student-athletes to communicate directly or indirectly (e.g., through former coaches) with other coaches.
Please note that, student-athletes who provide notification of intent to transfer may have their athletics financial aid modified, nonrenewed, or canceled in following semesters.
Student-athletes should review the Sun Devil Athletics Manual for more information on ASU transfer policies or contact the Compliance Office.
For more information, please review the NCAA's Guide for Four-Year Transfers.
Transfer Portal Windows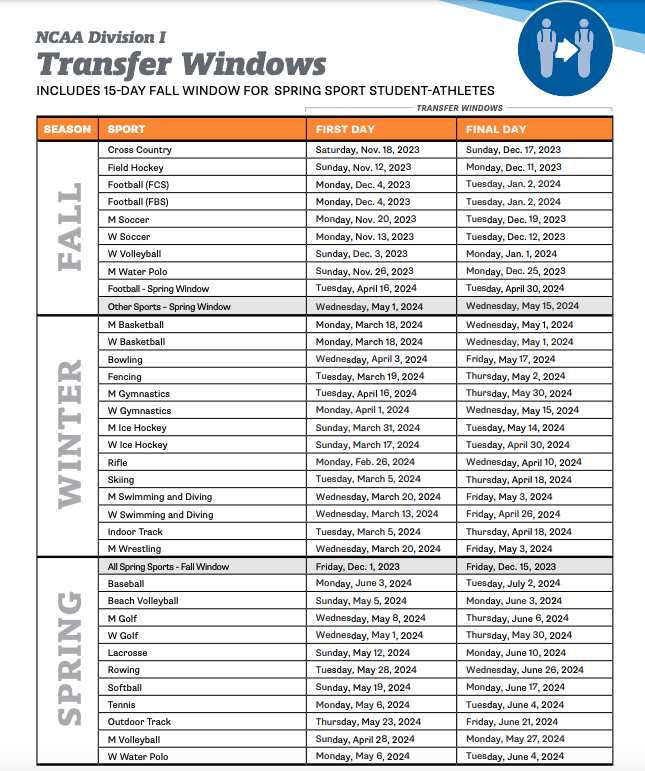 All Other Transfer-Related Requests
For one-time-transfer exception, Pac-12 transfer waiver, or other transfer-related requests, the transferring student-athlete must make his or her request in writing to the Compliance Office. If the request is denied, the student-athlete has the opportunity for hearing regarding the denial. Student-athletes who have questions about these transfer-related requests should consult the Sun Devil Athletics Manual or contact the Compliance Office directly. For questions related to the hearing process, student-athletes should contact the Faculty Athletics Representative.